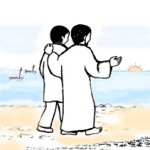 The desire to be open to the 'Other' and to reach out, lovingly, to the mystery of Life requires that we learn how to live more reflectively and not rush through life without realising the wonder of our being and of the world of which we are part.  In so doing we become more open – to ourselves and to others and to the movements that flow within us and between us.  Discerning how to respond can be tricky: what is God doing and how best might I respond?  Many people find that the use of a Spiritual Director can help in this process.
This ministry is available to anyone who wants to grow as a human being before God.  Most people know the benefit of having someone to talk with, in confidence.  People who offer this ministry (a 'Spiritual Director') do not have the answers, nor give solutions or talk about themselves. But the Director does listen quietly, asks open, sometimes probing questions and tries to help you see your circumstance from a different view. The end result (hopefully) is that you have a greater sense of integration in your life. Having a space to listen to God in you difficulties and circumstances builds a closer relationship with God and helps you pray and talk to God with ease.
Spiritual Direction and Confession: S. Andrews offers the ministries of Spiritual Direction, Confession and Healing as part of our life and witness to our compassionate God. For further information, please contact the Rector.