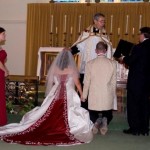 S. ANDREW'S IS A BEAUTIFUL CHURCH FOR A WEDDING!
If you are interested in getting married you should begin by speaking with the Rector. This is normally done over coffee after our 10.30am Sunday Parish Mass as we don't make arrangements via the internet. You may like to phone the Rector to indicate your interest – particularly if you want to arrange a date (but this is subject to the payment of a deposit).
Information for those interested in getting Married in St. Andrews:
– If you live within the Parish of St. Andrew your Banns must be called on three Sundays (not necessarily consecutive) within a three month period before the date of your wedding.
– If you live in the Parish of St. Andrew but propose being married in another parish you will need you Banns read at St. Andrews'. In order to do this please provide a letter from the priest of the parish in which you want to get married confirming that you are on the Electoral Roll of that parish.
– If one or both of you do not live in our Parish but wish to get married at St. Andrews' you will need to provide a letter from the priest of the parish in which you live confirming that your banns have been read in your home parish.
– If neither of you live in the parish of St. Andrew at least one of you will need to have your name(s) added to our Electoral Roll. This requires the person to have been baptised and that you have been 'habitually' worshipping at St. Andrews during a period of six months prior to your application for membership of the Electoral Roll.  (It is normal that at least one of those wishing to be married who do not live in the parish should have been Baptised into the Christian Faith. You will need to provide confirmation of your Baptism, either by providing your original Baptismal Certificate or by a letter from the priest of the parish in which you were Baptised confirming this took place.)
New rules now allow for wider 'Qualifying Connections'.  For information about these, please speak to the Rector.  Further information about Wedding can be found on the website: 'Your Church Wedding''
A full wedding in St Andrew's costs £464.00 (2021). This includes all pre-wedding interviews and forms.  There is a non-refundable booking fee of £100 which is deductible from the total fee.
Couples are required to meet with the vicar regularly. This is so she can get to know you, and you her. It is very important to us that you feel comfortable with our priest – it makes a big difference for your wedding
Couples are also asked to attend Mass regularly. This helps you to get familiar with the church, and feel comfortable in it.  It also gives you the Christian dimension to life – which is part of a marriage in St Andrew's.  The congregation will be delighted to meet you – and we hope that you will feel part of St Andrew's long before your wedding.
A rehearsal, for those involved in the wedding, will normally be held just before the event.
(The Rector usually celebrates weddings in St Andrew's who is happy for other clergy to share in the Service by arrangement)
MARRIAGE BLESSINGS
TBA is also happy to preside at your Marriage Thanksgiving, Blessing, etc…  It is always possible to hold these events in a venue of your choosing within the Parish of S. Andrew or, with the appropriate approvals, elsewhere.  Fees for such events begin from £50.