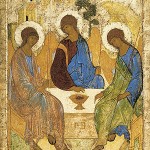 "Thou hast made us for thyself and our hearts are restless 'till they find their rest in thee"
– S. Augustine
Christianity is concerned with the quest for a fulfilled and authentic life that involves taking the beliefs and values of the Faith and weaving them into the fabric of our lives so that they "animate," provide the "breath" and "spirit" and "fire" for our lives.  It is about recognising that, as human beings, we comprise of flesh and spirit, and seeking to give expression to that.
Christian Spirituality is not the preserve of a few, chosen, holy, unique individuals. It is the means by which we all find our meaning and purpose in life. It is our response to the Other so that we are taken beyond ourselves and grow into our full potential before God.
"The glory of God is Man, fully alive,
and the glory of Man made in the image of God
is the vision of God" (S. Irenaeus)
Prayer is not a matter of thinking a great deal, but of loving a great deal – S. Theresa of Avila
Prayer is not a thing we do, it is a thing we can become when the heart is filled with waiting and longing for a clearer vision and a readier understanding.
– W.H.Vanstone: 'Love's Endeavour, Love's Expense
'How can I develop my spiritual life?'
As we all have a 'spiritual dimension' to our lives it is not difficult to develop. The desire to be open to the 'Other' and to reach out, lovingly, to the mystery of Life is the best start.  Most of us need to learn how to live more reflectively and not to rush through life without realising the wonder of which we are part. Try to set aside moments – times – when you can focus on something other than yourself – nature, art, humanity itself are all good places to begin the process. Reflection on the Scriptures and other holy writings is important, too.  Many people find that the use of a Spiritual Director can help in this process.