There are collections of pictures from parish events towards the bottom of this page. Some recent, some from many years back.
There are several stained glass windows throughout the church, some dating back over 100 years. Here is one example –
Flowers form an important part of the church decoration and a lot of effort is put into the displays especially for the celebrations and festivals during the church year. You can make a donation for a flower display at St.Andrew's in memory of your own special occasion or anniversary. Here are some of the beautiful decorations from Easter 2011.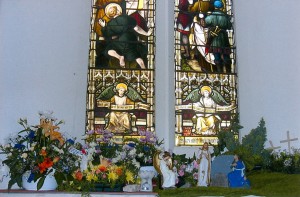 Photos from 150th Anniversary Events 2012
Flower Festival 2012 / Family Party 2012
And from the past…
Here are some pictures from past events and images from the previous century.
See a video tour of St.Andrew's with a commentary by the former rector Fr.John-Francis. Click here to view.